How to Save ZOOM Recordings onto Your Local Computer and Delete the Recordings on the Cloud?
How to save ZOOM recordings onto a local computer?
There are two scenarios:
(1)Scheduling a new meeting
1
Check the box "Record the meeting automatically" and select "on the local computer" in the ZOOM meeting setup.

(2) Starting a local recording during the meeting
1
Start a ZOOM meeting as the Host. Click "Record" and select "Record on this Computer"


If there is no "Record" button, click "More" and, select "Record on this Computer"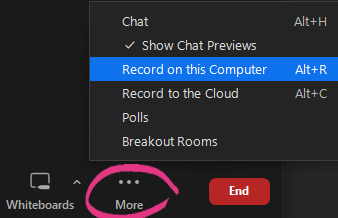 The Host will see icon at the top-left corner while recording is activated. Participants will also see the same icon in the top-left corner.
2
After the meeting is ended, ZOOM will convert the recording, after which you can save the file.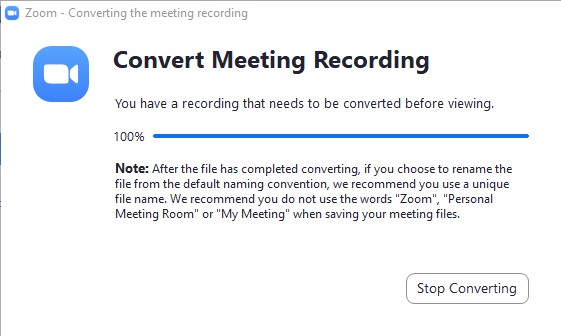 By default, all recordings will be placed in a ZOOM folder under the following path:
PC: C:\Users\User Name\Documents\Zoom
Mac: /Users/User Name/Documents/Zoom
How to delete the recordings on the Cloud in ZOOM?
1
Sign in to https://hkbu.zoom.us. Under the navigation menu, click "Recordings"

Select the recording you want to delete by checking the respective box(es), then click "Delete Selected"


For deleting the cloud recordings permanently, you have to empty the Trash.


Click "Trash" next to "Delete All", then "Empty Trash".